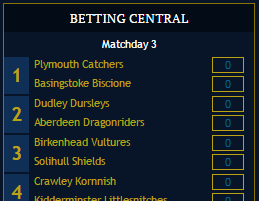 The long awaited Betting Central has been added!
Each day, the five hottest clashes across the Honour, Gold and Silver League become unlocked to be bet on!
Throw your galleons at the goblins and challenge your luck in this combined betting ballot! Wager in up to five matches and increase your winnings!
The closer you were to the real final score, the more you win! Picking the right winner will already make your balance shine!
Picking the wrong winner invalidates the whole ballot.